In the era of unparalleled business transformation, organizations use cloud technologies like hybrid cloud and private cloud to discover new ways to harness the power of data for value-driven business performance. Terms like hybrid IT and hybrid cloud architecture are getting thrown around a lot today. Especially in this unprecedented time of pandemic, organizations which are planning to reduce IT cost are bracing hybrid cloud in their cost optimization strategy. Since the technology has been around for so long, this leads to the obvious question: "why hybrid cloud is the best bet in the pandemic?" Let's break down and analyse the efficiency and benefits of hybrid cloud.
Mix of Capabilities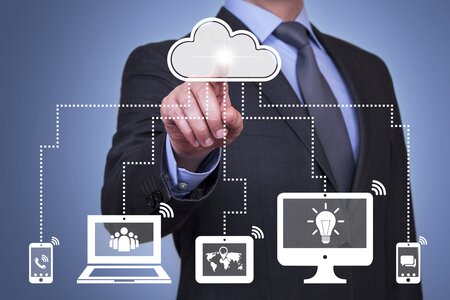 Organizations used to think that they had to make choices on whether their data had to be in the cloud or on-premise. Today, the choices seem almost passé. Organizations are no longer having to make a choice. It's because increasingly, cloud has become the default choice for IT infrastructure during this pandemic. Particularly hybrid cloud computing provides them the best blend of capabilities and the best option to tide over the challenges they face. It fits for purpose and scalable to meet the needs of any size of organizations.
Data Security and Privacy
Data complexity is one of the top challenges of IT infrastructure. Organizations are trying to overcome it with the wrong and often disconnected tools and systems. With the quick shift of remote workforce, they aren't getting the most out of their infrastructure without the right tools and internal skill-sets. Hybrid cloud management is often the best way to overcome these hurdles. It lets enterprises choose where to place workloads and data based on compliance, policy, audit and security requirement. Migration between clouds is facilitated by containers or encrypted application programming interfaces (APIs). This helps to securely transmit resources and workloads. It also allows to run critical workloads in the private cloud and less sensitive workloads in the public cloud. As COVID-driven cyber-attacks are increasing, hybrid cloud security significantly minimizes data exposure.
Scalability
Scalability is still an important aspect for small and mid-sized businesses looking for IT solutions that will allow them to scale their IT infrastructure as they grow to meet any demand or emerging need. When it comes to managing intensive workloads in competitive-edge, hybrid cloud is highly scalable. Organizations have been turning to hybrid cloud for its scalable nature. It integrates public cloud resources with an organization's existing infrastructure and thus provides new capabilities to the end users. It gives unlimited resources on demand while maximizing their existing infrastructure investments. Organizations like the flexibility behind the hybrid models and it's for this purpose that hybrid cloud adoptions continue to rise amidst the pandemic.
Cost
The promise of reduced IT cost is the top driver of increased cloud investments despite the crisis. Hybrid cloud seems to offer many compelling benefits for organizations aiming to save costs. As they don't need to invest on data centre equipment, it lowers the capital and operational expenditure. While reducing the IT infrastructure cost, the cost of data migration in hybrid cloud is considerably low. It is the most cost-effective solution for organizations needing to become more agile during the pandemic and embrace digital transformation through faster resource deployment.
Control
Organizations can customize the private end of their hybrid cloud model rather than entrusting all aspects of IT infrastructure to a third-party cloud provider. They can adjust the model based on their needs. As demands and needs tend to change frequently during the pandemic and going forward to the post-pandemic, holding the ability to reconfigure and make other tunings to the hybrid cloud environment that embraces most of an organizations' vital data assets makes it easier to adapt to those changes with minimal downtime.
Tide over the pandemic with Hybrid Cloud Adoption
It is predicted that cloud-based offerings will grow faster than traditional IT offerings. Cloud shift across key enterprise IT markets is evident and the past decade has witnessed widespread adoption of cloud-based applications and services. Organizations who don't implement a cloud-first strategy are likely to fall behind their competitors. Given that the pandemic has changed the way organizations operate, hybrid-cloud is the best bet to tide over the challenges.