The banking industry has been undergoing major disruptions. A slew of big techs and FinTechs have been emerging and rising, their primary focus being on championing customer experience and increasing ease of use. Top players have started embracing technology trends to improve their product offerings and accelerate their services. Banks can't afford to be left behind in this competition.
As digital commerce continues to grow rapidly, the need for core banking solutions to reduce friction with payments and improve payment security becomes increasingly important. Banks also need to ensure that their payment schedules are met consistently, as non-compliance can lead to severe repercussions.
The need for robust e-Governance solutions
Several public and private sector banks in India can successfully conduct their business and payment operations in conjunction with the Government, by using new and innovative technologies. They need robust, effective e-Governance solutions which will help them handle various types of financial transactions on behalf of the government for organizations and banks. A Government Business Suite (GBS) is an efficient digital governance solution that facilitates financial transactions associated with the Government.   
The solution is purpose-built for direct & indirect tax collection and remittance subject to the Central Board of Direct Taxes (CBDT), Goods & Services Tax and State Tax. 
It comes packed with various transaction modules such as pension scheme with centralized processing & payment, new pension and savings schemes such as Public Provident Fund, Senior Citizens Savings, and RBI Relief Bond
Key modules of a Government Business Suite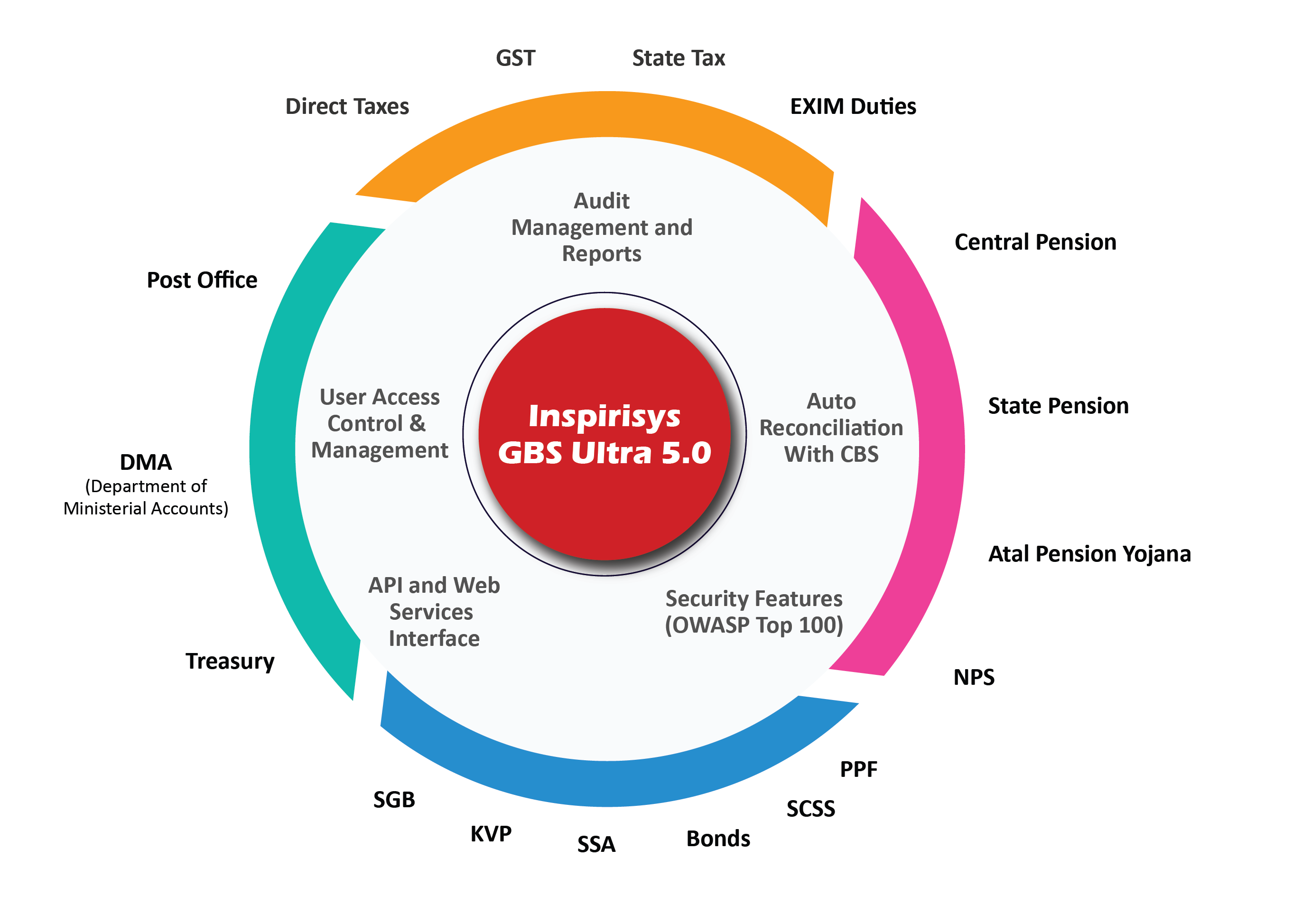 There are certain key modules that a GBS has. Some of them are:
GST (Goods & Services Tax) 
The GST module comes fully loaded with digital capabilities that will enable tax collection and compilation, apart from the remittance and reporting of indirect taxes. Some of the stand-out features of the GST module include:
The extraction of electronically generated Common Portal Identification Number (CPIN) data from the GSTN portal

Acceptance of tax collection through various modes which include Over the Counter Payment, real-time eBanking, and processing of credit and debit card transactions through APIs
Central Board of Direct Taxes (CBDT)  
The CBDT module handles digital demands of tax collection, compilation, remittance, and reporting of direct taxes. It generates CRN data from the TIN portal and receives taxes using different modes such as Over the Counter Payment, real-time Net Banking and processes credit and debit card transactions through APIs. 
State Tax 
This module covers all the functionalities of state revenue collections. This includes State Tax and other miscellaneous taxes such as parameterization, hierarchy, creation of the master and mapping of the treasury and sub treasury. It also includes the maintenance of the remittance calendar, head of account mapping, TOC rate, TOC sharing percentage maintenance, e-banking transactions processing through APIs.
New Pension Scheme (NPS) 
This module has features that ensure the effortless parameterization, maintenance of service requests with the commission amount, percentage of service tax, and receipt number maintenance for each service request. It captures some very essential data from subscriber registration to handle various service requests such as contribution, withdrawal, scheme preference changes, subscriber modification, and PINT PIN requests. 
Savings schemes for Senior Citizens
Public Provident Fund 
The GBS Public Provident Fund (PPF) Module empowers banks to seamlessly deliver PPF processes such as subscription, penalty, nominations, withdrawals, loans and the calculation of interest. It makes it easier for them to transfer the PPF accounts from one branch to another.
Atal Pension Yojana (APY)
GBS can handle the parameterization of various functionalities required for the Atal Pension Yojana. This includes:
Registration

Modification of the pension amount

Upgrade/Downgrade

Change in the Date of Birth

Change in frequency

Centralized deduction of subscriptions using standing instructions

eScrolls in different formats following the NSDL/RBI norms
Senior Citizens Savings Scheme 2004 
GBS takes care of the subscription, timely and premature withdrawals, centralized trial run and actual interest runs for the Senior Citizens Savings Scheme 2004. TDS gets deducted at the time of interest payment from the eligible accounts.
Sukanya Samriddhi Accounts (SSA)
The subscription, penalty, nominations, withdrawals and calculation of interest for Sukanya Samriddhi Accounts can be done by GBS. The accounts can also be transferred from one branch to another. This will ensure centralized control over the trial run and actual interest run. 
Kisan Vikas Patra (KVP) 
The Kisan Vikas Patra scheme doubles one-time investments on the maturity of the deposit. GBS equips banks to manage the parameterization, maintenance of the pre-maturity interest slab, transfer of funds from one bank to another, and account closure with customized reports.
Relief Bond 
The module can handle various RBI relief/savings bonds that are in force using all the validations taking place according to the rules related to subscription, nomination, maintenance, the interest process and more. The GBS module also ensures the deduction of TDS on calculated interest, repayment of bonds, the maintenance of agent masters, and payment of agent commission.
Centralized Export Import (EXIM)
The EDI (Electronic Data Interface) used for the collection of customs duty and payment of that duty drawback are handled after communication with the Customs Office. This is termed as the Centralised EXIM (Export and Import) module. This module enables banks to communicate directly with the central Government.
Treasury 
The Treasury module manages several types of collections for the central and state treasuries and also supports the parameterization, masters, transactions, scrolls, and customized reports.
How the GBS module can help
Benefits of GBS
Secure and scalable- GBS is built on a robust Java-based web application platform with the latest technology stack and compliance to the security standards set by OWASP Top 10. It is designed for transaction-intensive deployments which need scalability and high availability as high-volume government transactions are involved.
Delivers a smooth user experience- The GBS module will ensure a smooth, glitch-free user experience at all times. Using GBS makes it easy to
Handle peak loads effectively

Contemporary integration using Core Banking Solution systems

Trial run and pre-defined data for bulk transactions

Automated reconciliation system
Loaded with the latest security capabilities- GBS comes armed with the latest security architecture that is fully capable of handling the OWASP Top 10 security vulnerabilities. It also has strong SSL and data layer encryption, and ensures a granular module-level and role based access to users. A highly secured password policy also ensures that it remains well protected from cyber attacks.
Why you should choose the Inspirisys GBS solution
Over 25 public and private sector banks in India have been successfully conducting government business operations using Inspirisys' in-house GBS Ultra 5.0 solution for over two decades.
This module has been tightly integrated with the Finacle CBS system since 2001. It has also been integrated with Oracle Flexcube and FIS Profile, and has enjoyed an enviable 100% success rate in implementation. GBS Ultra 5.0 also offers over 1000 feature upgrades as per the customers' requests and 24/7 support and instant spike support for RBI mandates and other internal requirements.
Want a powerful, cost-effective e-Governance solution? Don't think twice. Get in touch with us.